Please select from the list below to see further details
"Since singing is so good a thing, I wish all men would learn to sing" (William Byrd, 1588)
Neil's Autobiography
I started to write this memoir when the COVID pandemic locked us all up in our homes in March 2020. It seemed as though I had been preparing for the task for the whole of my life as I had stored away everything that was needed. For example I had kept all my school reports, articles I had written, my exam papers, and more particularly all my diaries from my university days onwards. I discovered how relatively easy it is to remember the past in detail when you have all this information available to consult. The diaries may have contained nothing more than simple entries, revealing what would be happening on any specific day. But that was enough to open up memories of the past.
I have also kept every programme of every concert I have taken part in. The earliest was a tatty sheet of paper showing what was performed in a school concert in 1950 or thereabouts. Since then I have collected a whole store of information which has been tidied away in the loft for years, gathering dust: Newspaper cuttings containing reviews (good and bad), and photos of me in various opera roles. But in 2020 it suddenly proved a gold mine. My first task was to go through it all and put everything into an excel document on the computer. This contained information about date, place of performance, venue, work, and small details regarding conductor, orchestra, and performers, where they were available. This built into a huge data base, from which I could eventually extract the number of times I had performed various opera and oratorios. It certainly kept me out of mischief for three or so months when I would otherwise have been forced to twiddle my thumbs by the ongoing pandemic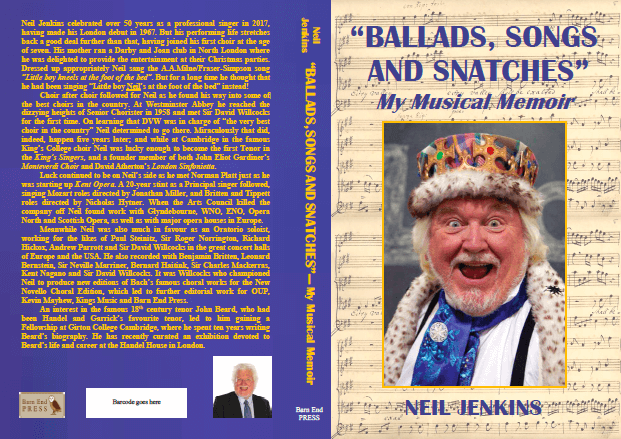 Writing all this information up into a narrative has been a further nine months of pleasure. I am so glad that I have been able to do it for my children and grandchildren, so that they can get an idea of what I was doing in those days when performances throughout the U.K and Europe kept me away from home for so long. Here they will be able to learn about my time as a young chorister at Westminster Abbey, and how Field-Marshal Viscount Montgomery, the war hero, befriended me. They will learn that HRH Elizabeth the Queen Mother first introduced me to champagne! They will be able to see how various distinguished musicians took me under their wings and provided me with the self-confidence to commence my 53-year singing career. The descriptions of my work in Opera and classical concerts are peppered with anecdotes about amusing things (and accidents) that happened on and off stage – to me and my colleagues.
I am enormously lucky to have been always in work – though ill-health has occasionally dogged me. I have never baulked at hard work, and at the height of my career took on the many alternative opportunities that came my way. Thus I began a rewarding period re-editing and translating into English all of Bach's choral works for one famous publishing house, and worked on the oratorios of Haydn for another. I took over a large Choral Society and helped it to grow in every way over a happy 12-year period. Concurrently I was busy in the summer months running a large Summer School for choirs and classical singers, which enabled me to put something back into the business that I love.
I must thank my wife, Penny, for being so supportive during the year that this memoir took to write, and letting me get on with it when I expect there were many other calls on my time. She has also been my excellent proof-reader, but plays a much more important role than that in the story of my life, beginning with the happy moment when opera brought us together one day in the 1980s.
The Autobiography can be found at Barnend Press at the following link below.
Neil Jenkins May 2021
Neil Jenkins, the internationally known tenor, conductor and music editor, was a Chorister at Westminster Abbey, and a Choral Scholar at King's College Cambridge. Whilst there he was the first tenor in the renowned vocal group 'The Kings Singers', and sang in the first concerts given by John Eliot Gardiner's Monteverdi Choir and David Atherton's London Sinfonietta. He subsequently studied in the Opera School at the RCM where he formed the Kensington Consort with, among others, Sir Thomas Allen and Brian Kay. He made his debut in 1967 in a recital at the Purcell Room with Roger Vignoles, and sang and recorded with the Deller Consort, under the direction of Alfred Deller, for ten years (1967-1977), whilst establishing himself as an opera singer at Sir Roger Norrington's Kent Opera. In the 1970s he was appointed as an RCM singing professor by Sir David Willcocks, for whom he became a regular soloist with the Bach Choir, especially in the Bach Passions, up until Sir David's retirement from the choir.
He has carved out a unique career, being equally at home as an Operatic, Oratorio and Recital singer; and combining this with an increasingly important role as a musicologist. In 2003 he was appointed to a Cambridge Fellowship to enable him to write a book about Handel's favourite English tenor: John Beard. Neil has translated and edited Haydn's The Creation, The Seasons, The Seven Last Words and Handel's Brockes Passion (The Passion of Christ) for Barn End Press. He has produced several song albums for OUP and Kevin Mayhew Ltd.
He has recorded under such eminent batons as those of Bernstein, Britten, Marriner, Mackerras, Chailly, Nagano, Andrew Davis, Haitink, Norrington, Parrott, Gardiner and Hickox. He is also known for his performances of contemporary music, where he has been directed by Rattle, Henze, Oramo, Atherton, Penderecki, Lutoslawski, Jac van Steen, Boulez and André Previn. Neil has sung with all of Britain's leading opera companies. Recent performances have taken him to New York, Chicago, Berlin, Paris, Lyon, Amsterdam, Geneva, Santiago, Dublin, Belfast and Tel Aviv. He appeared as 'Arnalta' in Monteverdi's The Coronation of Poppea with WNO and on television, and repeated the role in 2006 at Buxton and Aldeburgh. Between September 2006 and February 2007 he managed to combine the role of 'Irus' in The Return of Ulysses for WNO with a concurrent production of Hansel and Gretel, as the 'Witch', for OTC Ireland. His performances in Kent Opera's King Priam and Glyndebourne Festival's Lulu and Higglety Pigglety Pop are available on video. He joined WNO once more in 2008 for a new production of Verdi's Falstaff starring Bryn Terfel which was televised and broadcast.
In 2004 Neil was honoured by the Worshipful Company of Musicians with the presentation of the 'Sir Charles Santley Memorial Award' for his achievements in his singing career, and his labours in producing new scholarly Bach editions for the Novello Choral Series. Neil is President of the Haywards Heath Music Club, the Shoreham Oratorio Choir, the Grange Choral Society of Bournemouth, Basildon Choral Society and Kent Chorus; Vice-President of the Brighton Competitive Music Festival and the Huntingdon Philharmonic Society; and is Patron of the Goldsmith's Choral Union, the Plymouth Philharmonic Choir and New Sussex Opera.
The year 2007 marked the 40th anniversary of Neil's London debut, and he celebrated this at a special concert with his large choir, the Sussex Chorus – based in mid-Sussex – which he conducted from 2002 to 2014. His performance of Finzi's Dies Natalis was conducted by his son Nicholas, who also conducted him in 2010 in a production of Britten's opera The Turn of the Screw at the Dartington Festival.
In 2017 he celebrated his 50th anniversary as a professional with several song recitals and performances of his lecture-recital about the Handellian tenor John Beard, as well as curating a six-month long exhibition about the singer at the Handel House museum in Brook Street, London.