Conducting 2001 to Present
Please select from the list below to see further details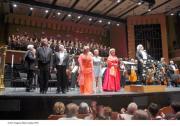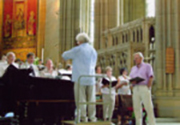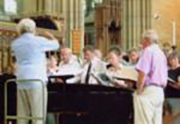 Prior to taking over as their Musical Director in September 2002, Neil has had a long relationship with the Sussex Chorus (formerly the Ditchling Choral Society), and has sung many leading choral works with them (such as The Dream of Gerontius, Acis and Galatea, Carmina Burana). Recent reviews of Sussex Chorus and DCS concerts have been very enthusiastic for the new energy and drive displayed by the choir since Neil took over as conductor. Its beauty of choral tone and reserves of power have been commented upon in reviews like this one (from Mike Howard, writing in the Brighton Argus on 23rd May 2003): "They were right out front and straight into your face with a feast of religious music which even moved this old atheist's heart. Ditchling Choral Society sang their hearts out with a power I haven't heard in a long while. New music director Neil Jenkins had the full measure of St Bart's sometimes quirky acoustics….to make this an evening of meaty and bold music-making. Sussex has a wealth of choral groups but the Ditchling group must be at the head of the queue."
At the beginning of the 2003-2004 season the choir changed its name to the Sussex Chorus to reflect the modern and wider Sussex scene from which choir members and audience are drawn. Dame Felicity Lott is President of the choir, with Janet Canetty-Clarke as Conductor Emeritus. To celebrate this change the choir performed Bach's "B Minor Mass" under the baton of Sir David Willcocks on St. Cecilia's Day 2003, and highlighted the choral works of Howard Blake (including "A Christmas Lullaby", "4 Songs of the Nativity" and "The Song of St. Francis") throughout their season's programmes. The Sussex Chorus was awarded the Award for the best classical concert in the 2005 Brighton Festival for their staged performance of Bach's "St Matthew Passion". Recent concerts have also included "The Armed Man"(Karl Jenkins), "The Christmas Oratorio" (in the new NJ edition) and programmes to celebrate Trafalgar 200 and Mozart's 250th birthday.
Concerts of note have been the choir's 90th birthday concert at the Brighton Dome in July 2011 where the choir was joined by its President Dame Felicity Lott for a performance of Mendelssohn's Hymn of Praise and operatic excerpts.
Other concerts prior to Neil's departure in 2014 have included the Queen's Diamond Jubilee Concert in St Bartholomew's Church, Brighton.